The BTR Govt celebrated the 15th Birth Anniversary of the Mahatma Gandhi, the father of the nation on 2nd Oct 2023 in Bodofa Cultural Complex, Kokrajhar, BTR.
On this occasion, the Govt of BTR has launched several news programs, schemes, mission for the development and welfare for the people of Bodoland Region.
List of BTR Govt Missions & Schemes Launched on 2 Oct 2023
Mission Bwiswmuthi, a web portal to deliver online land related services to citizens
2 Binode Brahma Sports Academy (1 each at Baksa and Kokrajhar Districts)
Bodoland Sports Excellence Award of Rs. 1 lakh each to 100 sportspersons
आइ Onsai Bithangki, a program to support women identified with 'high risk pregnancy' under the Rog Nirmul BTR mission
Energy for Health Program that will support solarisation of 500+ health centres across BTR as part of the MoU with SELCO Foundation.
Bodoland Cancer Care Trust to support cancer patients and their families in BTR.
Establishment of 2 Bodoland Rural Industries Centres (BRICs) in BTR on a fast-track mode.
People's Hope People's Plan – Participatory Constituency Development Plan, and Lakhpati Mahila Initiative of BTR.
The CEM Dashboard Portal with focus on Government Expenditure Tracking for FY 2023-24.
Establishment of 5 Gender Resource Centres (1 in each BTR district) to be managed and run by the Women Cluster Level Federations (CLFs).
Ceremonial Distribution of PM Fasal Bima (Sali Paddy) Certificates to 3797 farmers from the Forest Villages of Kokrajhar as part of one-time assistance for PM Fasal Bima Yojana.
Mission Bwiswmuthi
This Bwiswmuthi Mission initiative is set to revolutionize the management of land records by introducing digital transparency and efficiency to land and revenue-related services.
Through this portal every citizen of BTR can now apply for the following related services:
Mutation by right of Inheritance;
Mutation after Deed Registration;
Partition for Disputed Cases;
Conversion of Annual Patra to Periodic Patta (Non-transferred Cases);
Reclassification of Land;
Striking of Names from RoR who are no longer in Possession (U/Rile 116, ALRR);
Conversion of Allotment Certificate to Periodic Patta;
Land Holding Certificate;
Certified Copies of Jamabandi & Chitha; and
Mobile Number Updatation.
This digital transformation will serve as a pivotal element for the development and progress of our region, aligning with our commitment to good governance and public service.
आइ Onsai Bithangki
Through this Aai Onsai Bithangki scheme, women of BTR will receive financial assistance of Rs. 1000 per month during 9 months pregnancy and 3 months post-delivery.
Further, ASHAs, ANMs & Anganwadi Sewikas will make sure that these expecting mothers receive best care and guidance throughout the journey.
With this compassionate initiative, The BTR govt aims to reduce Maternal Mortality Rate (MMR) & Infant Mortality Rate (IMR) in BTR, thereby safeguarding the well-being of both mothers and their unborn children. This reflects the steadfast dedication to holistic healthcare and maternal welfare within the region.
Bodoland Cancer Care Trust
The Govt of BTR launches "Bodoland Cancer Care Trust" under Govt of BTR's flagship Rog Nirmul BTR initiative. The trust will provide vital support to cancer patients and their families in BTR.
The trust will work together with existing cancer care facilities to arrange affordable accommodations for cancer patients and their families near cancer hospitals.
It will also offer medical aid, emotional support, financial assistance, counseling, and awareness programs. The trust will actively solicit contributions from individuals, corporate CSR funds, and government support for services such as ambulances, treatment, and rehabilitation, with the goal of enhancing cancer care in the region.
Bodoland Rural Industries Centres (BRICs)
The Govt of BTR has launched two Bodoland Rural Industries Centres (BRICs). This BRICs aim to serve as essential hubs, not only providing the much-needed infrastructure but also facilitating crucial financial and market connections. In addition, they will offer management services, training, and capacity development programs, all aimed at expediting the growth of rural industries. These initiatives will ignite the economic resurgence of BTR, ushering in a new era of prosperity and self-sufficiency.
People's Hope People's Plan
The new project of BTR govt – People's Hope People's Plan is a participatory constituency development plan. This initiative will create a citizen-driven approach to development, enhance transparency and accountability in local governance, and strengthen trust between the government and citizens.
Mahila Lakhpati Initiative
The BTR govt Mahila Lakhpati initiative is an empowering initiative, dedicated to ensuring the upliftment and empowerment of women's Self-Help Groups (SHGs). With this initiative, women across the BTR region will be equipped with resources they need to achieve financial independence.
BTR CEM Dashboard Portal
The BTR CEM dashboard portal will be an effective tool designed to enable all EMs and senior officers of the BTC to track the precise start-to-end progress of all flagship missions and developmental activities to be implemented in BTR during the financial year 2023-24.
Salient features of BTR's CEM Dashboard Portal
All department and missions tracked at one single place through an uniform format.
Track department projects and schemes by location (district, block, VCDC).
Progress of each project can be tracked from the start Administrative Approval of the end (issuance of completion certificate).
Gender Resource Centres
The BTR govt inaugurated 5 Gender Resource Centres, 1 in each BTR districts. These centers will be under the capable management of Women Cluster Level Federations (CLFs).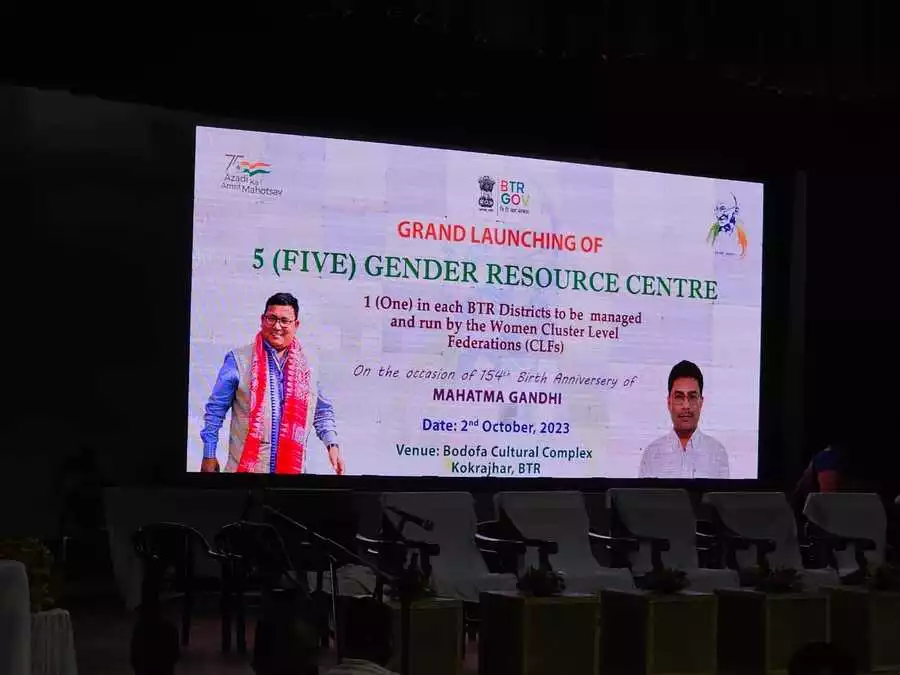 Farmer's Database Portal of BTR
The BTR govt launched Farmers Database Portal, link – https://www.btragri.co.in/
This BTR farmer's database website will serve as valuable resource for farmers of the Bodoland region, enabling them to maintain their essential information while offering various services such as crop tracking, asset management, and land management.
BTRAgri.co.in
PMFBY PM Fasal Bima Yojana Financial Support
The BTR govt ceremonially distributed one-time financial assistance to 3,797 forest farmers of Kokrajhar district under the PM Fasal Bima Yojana Scheme. This financial support initiative will empower the farmers and strengthen the agricultural economy of BTR.