Durand Cup 2023 Award Winners: Let's discover who the award winners of Durand Cup 2023 are, including those who clinched the Golden Glove, Golden Ball, and Golden Boot awards.
Mohun Bagan Wins Durand Cup 2023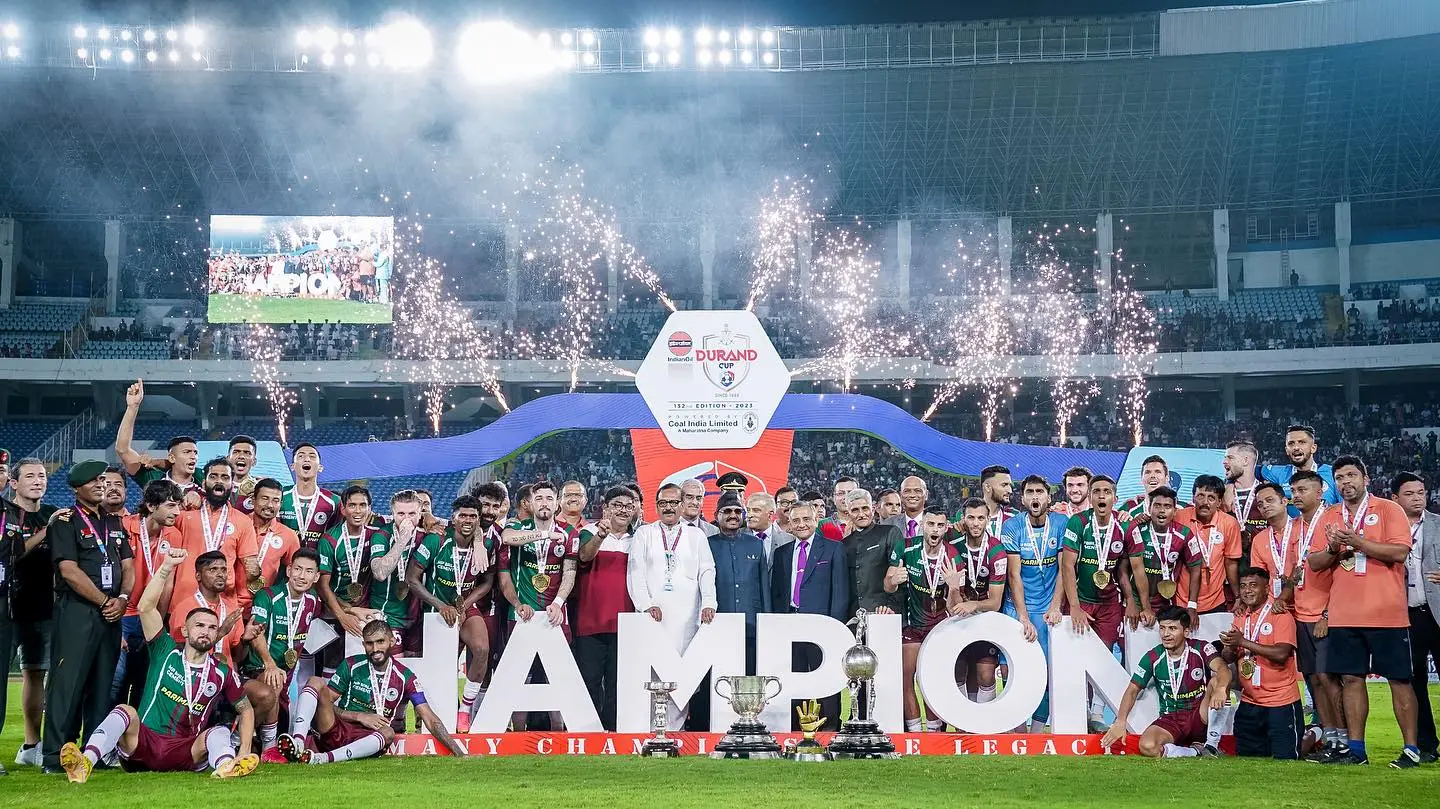 Durand Cup 2023 Winner:
In a final match, Mohun Bagan Super Giant triumphed over Emami East Bengal FC with a 1-0 scoreline, earning their 17th Durand Cup title in the 132nd Edition of Indian Oil Durand Cup.
The champions were awarded Gold Medals and a 60-lakh rupee cheque by Lt Gen Rana Pratap Kalita, GOC-in-C, Eastern Command.
Additionally, Aroop Biswas, the Hon'ble Sports Minister of West Bengal, presented them with the Simla Trophy, followed by General Anil Chauhan, Chief of Defence Staff, who awarded Mohun Bagan Super Giant with the Durand Cup, and finally, Dr. CV Ananda Bose, Hon'ble Governor of West Bengal, handed them the Presidents Cup.
Durand Cup 2023 Award Winners
As the champions celebrated, everyone was excited to find out who would receive the Golden Glove, Golden Boot, and Golden Ball awards, making the tournament even more thrilling. So, let's check out who earned these prestigious honors.
Golden Glove Award Vishal Kaith (Mohun Bagan)
Vishal Kaith from Mohun Bagan Super Giant was honored for his saves and performance. He received a 3-lakh rupee cash prize from Shri Prem Anup Sinha, Chief General Manager of SBI.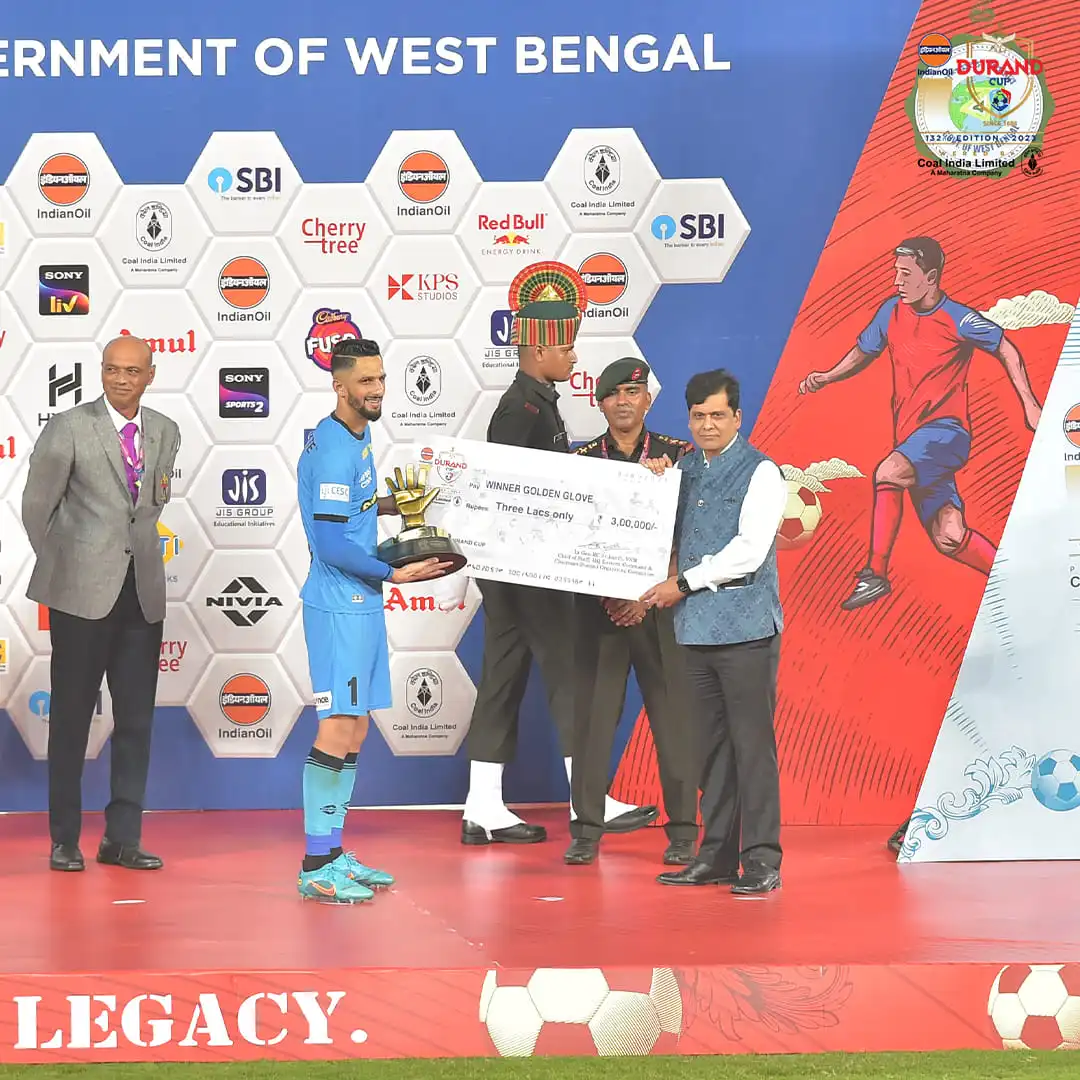 Golden Boot Award David Lalhlansanga (Mohammedan SC)
David Lalhlansanga from Mohammedan SC clinched the Golden Boot award for his outstanding goal-scoring skill, with an impressive 6 goals in just 3 games. Shri Vinay Ranjan, Director (Pers & IR) Coal India Limited, presented him with the award along with a 3-lakh rupee cash prize.
Golden Ball Award Nandhakumar Sekar (East Bengal)
Nandhakumar Sekar from Emami East Bengal FC was celebrated as the Golden Ball Winner for his exceptional performance throughout the tournament. He received the Golden Ball trophy and a 4-lakh rupee cash prize from Ms. Sukla Mistry, Director of Refineries IOCL.
Durand Cup 2023 Final | Mohun Bagan Winning Images
Here are some photos of Mohun Bagan Super Giant being honored with awards.
Durand Cup 2023 Runners-Up: Emami East Bengal FC, the runners-up, received silver medals and a 30-lakh rupee prize from Air Marshal Sujeet Pushpakar Dharkar, AOC-in-C, EAC.
Durand Cup 2023 Runners-up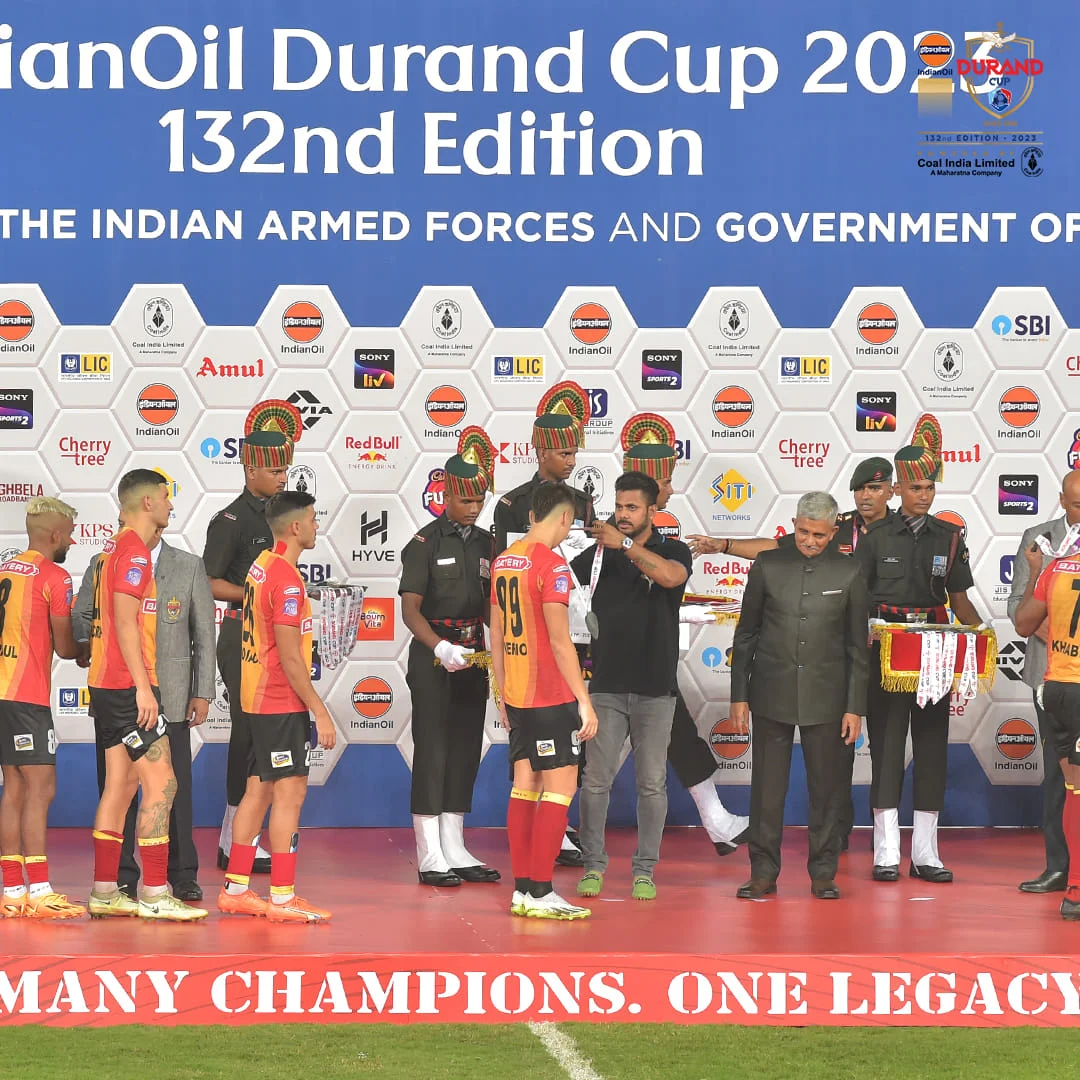 Related Articles,
FAQs
1. Who won the Durand Cup 2023?
Mohun Bagan Super Giant won the Durand Cup 2023 by defeating arch-rival East Bengal with a 1-0 score.
2. When was the Durand Cup 2023 final?
The Durand Cup 2023 Final was held on 3rd September 2023, at Vivekananda Yuba Bharati Krirangan, Kolkata. Mohun Bagan emerged victorious in the Durand Cup Final 2023.