SAFF U-19 Championships, Kathmandu: Let's talk about the two rising Bodo football sensations, Manabir Basumatary and Gwgwmsar Goyary, who've proudly secured their spots in India's U-19 football squad for the SAFF Championship 2023.
Manabir Basumatary and Gwgwmsar Goyary Selected for SAFF U-19 Championship Kathmandu
Manabir Basumatary and Gwgwmsar Goyary, two talented football players from Kokrajhar, Assam, have been chosen to represent the Indian Under-19 men's football team in the SAFF U-19 Championship in Kathmandu. Their selection in the 23-member squad was announced by the U-19 men's team head coach, Shuvendu Panda.
Manabir, a defender from Gossaigaon, received training at the Tata Trust of Excellence in Aizawl and now plays for Kerala United FC. Gwgwmsar, originally from Molandubi, Gendrabil in Kokrajhar, also trained at the Tata Trusts of Excellence in Aizawl before joining Minerva Academy in Mohali.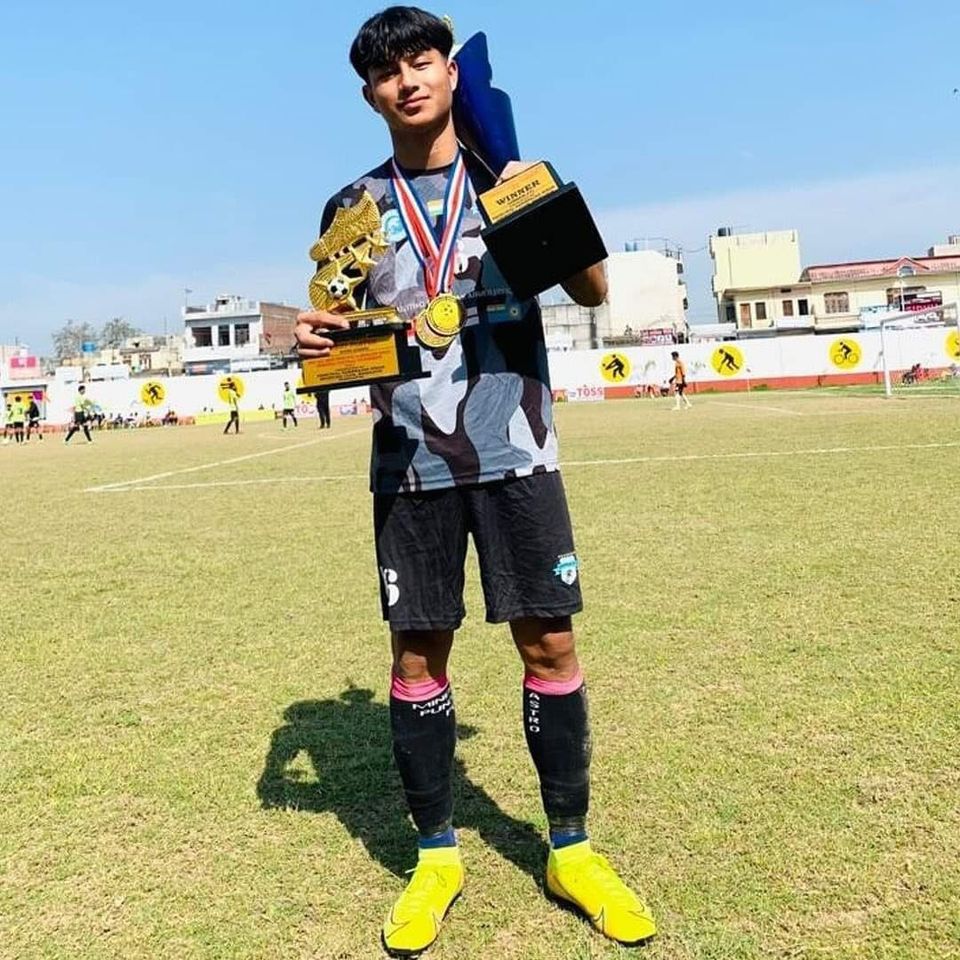 Indian U-19 Men's Football Team | SAFF U-19 Championship
The team India is currently in Saudi Arabia for training and will head to Kathmandu on September 19. The championship will take place at Dashrath Stadium in Kathmandu, and the top two teams from each group will advance to the semifinals.
In the SAFF U-19 Championship groups:
Group A includes Nepal, Maldives, and Pakistan.
India is placed in Group B along with Bhutan and Bangladesh
Note: In 2022, India emerged as champions in the SAFF U20 by defeating Bangladesh 5-2 in the final in Bhubaneswar.
Dr. Sangrang Brahma, the Secretary of the Assam Football Association (AFA) congratulated the players, expressing his belief that their success will inspire young footballers in Assam.
As reported by the Assam Tribune, Brahma said, "This is an exciting development, and it highlights the positive growth of football in our state. I know these two boys are talented, and if they continue to work hard, they will soon represent the senior Indian team. Congratulations to them, and I wish them a bright future."
Additionally, two more players from Assam, Forward Parthib Gogoi and Goalkeeper Hrithik Tiwari, have been selected for the India U-23 men's team for the AFC U23 Asian Cup Qatar 2024 Qualifiers in Dalian, China, starting from September 6.
Brahma emphasized the significance of this achievement, stating, "For Parthib and Hrithik, I think it's as good as getting selected for the senior team. To get in the Under 23 team is very competitive and we are really hopeful of a better future"
Brahma also mentioned that the AFA has implemented various plans to promote grassroots football in Assam, including age-group leagues and leagues for women.
India's squad for SAFF U- 19 Championship, 2023:
Head coach: Shuvendu Panda.
Midfielders: Manglentheng Kipgen, Ishaan Shishodia, Arjun Singh Oinam, Yash Chikro, Ebindas Yesudasan, Raja Harijan and Thumsol Tongsin.
Forwards: Gwgwmsar Goyary, Sahil Khurshid, Linky Meitei Chabungbam, Kelvin Singh Taorem, Naoba Meitei and Dinesh Singh Soubam.
Defenders: Thomas Kanamoottil Cherian, Jahangir Ahmad Shagoo, Vijay Marandi, A Siba Prasad, Manabir Basumatary, Surajkumar Singh Ngangbam and Ricky Meetei.
Goalkeepers: Lionel Daryl Rymmei, Divyaj Dhaval Thakkar and Manjot Singh Parmar.
Related articles,
ICC Cricket World Cup 2023 Schedule

World Weightlifting Championships 2023

World Wrestling Championships 2023
FAQs
1. Who are Manabir Basumatary and Gwgwmsar Goyary?
Manabir Basumatary and Gwgwmsar Goyary are talented young football players hailing from Bodo communities in Kokrajhar, Assam. They have been selected to represent India in the U-19 football squad for the SAFF Championship 2023 Kathmandu.
2. Which tournament Manabir Basumatary and Gwgwmsar Goyary is participating in?
Manabir and Gwgwmsar is representing India in the U-19 category at the SAFF Championship 2023 to be held in Kathmandu.