Facts About Kho-Kho: Let's check about the facts of Kho-Kho, an indigenous Indian game ahead of the 4th Asian Kho-kho Championship 2023 that'll be held in Tamulpur of Bodoland, Assam, from 20 March to 23 March 2023.
Facts About Kho-Kho
A Kho-Kho team consists of 12 players, but only 9 players from each team take the field during a match.
Kho-kho is played in 4 innings of 9 minutes each.
The Kho-Kho playground is 29 metres long and 16 metres wide, with a vertical wooden post at either end of the field.
Kho-Kho requires speed and agility and is considered one of the strongest tag-team sports.
Officials in Kho-Kho
To ensure fair play, every game needs impartial officials. Let's take a look at some of the on-ground officials in Kho-Kho.
Referee
Every kho kho match takes place under the jurisdiction of a referee, who makes sure rules are followed, the game is fair, and can penalize any foul play.
Umpire
Every official game of Kho-kho requires two umpires. Each time a runner is touched, they declare it.
Timekeeper
The timekeeper declares the end of each quarter, which typically lasts 9 minutes.
Scorer
The scorer keeps track of the scores of each team.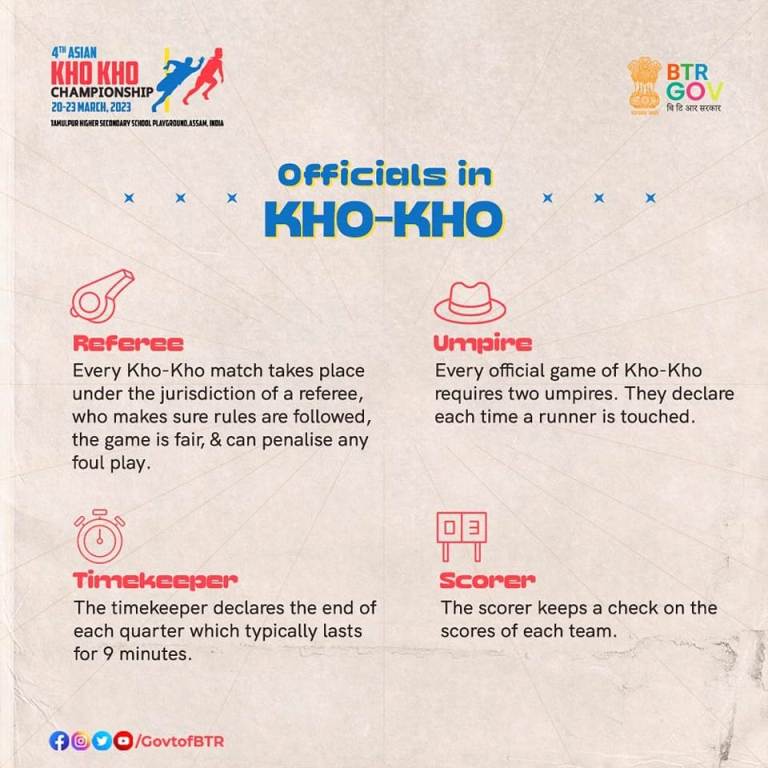 Did You Know
Although kho-kho has been played in India since immemorial, it has rules formally drafted by Lokmanya Bal Gangadhar Tilak in Pune, Maharashtra.
Did you know that legendary freedom fighter Bal Gangadhar Tilak is considered the founder of modern-day kho-kho?
At the Deccan Gymkhana club in Pune, Maharashtra, Bal Gangadhar and Bhai Narorkar Tilak drafted the first ever set of rules for kho-kho. The rules and regulations they set determined the area of a classic kho-kho playground for the first time.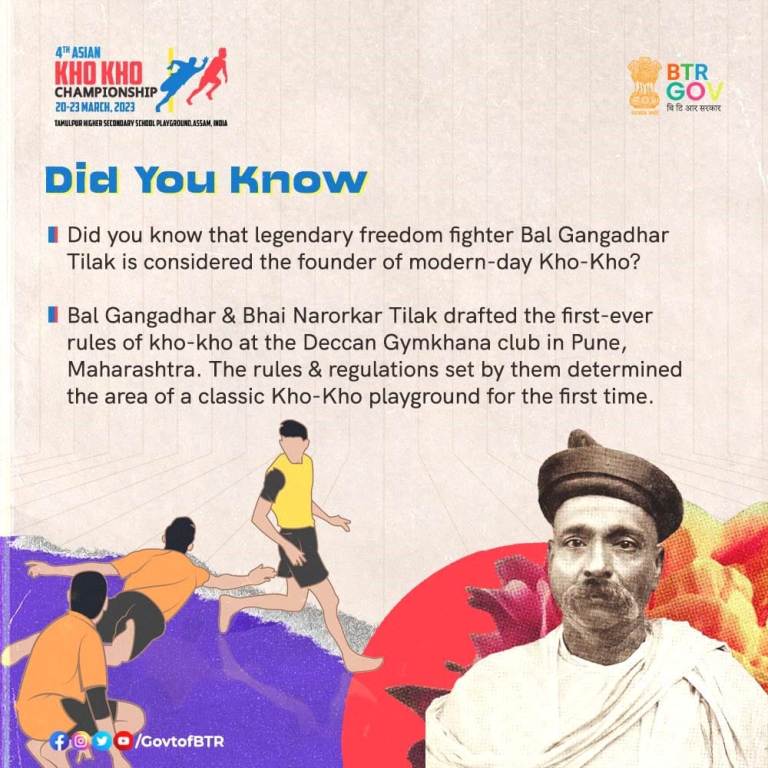 Kho-Kho on the International Stage
In 1936, Kho-Kho was played as a special performance at the Berlin Olympics (as were Kabaddi and Mallakhamb).
The sport was also staged in Sweden and Denmark in 1949.
Kho-Kho made its first international appearance in 1996 at the 1st Asian Kho-Kho Championship in Kolkata.
Asian Kho Kho Championship 2023
1st Asian Kho-kho championship was in 1996 at Calcutta, West Bengal, India
2nd Asian Kho-kho championship was in 2000 in Dhaka, Bangladesh
3rd Asian Kho-kho championship was in 2016 in Indore, Madhya Pradesh, India
4th Asian Kho-kho championship will be held in 2023 in Tamulpur, Baksa, BTR, Assam, India
For the upcoming kho-kho game, explore the 4th Asian Kho Kho Championship 2023.
Note: The data are taken from the Govt of BTR FB page.