If you want to stay at the Bodoland guest houses across India, we have a detailed list of Boroland guest houses for your reference. Bodoland govt has provided this very good accommodation facility for the public.
We have 17 guest houses/bhawans in India spread across different cities. Some states have two, and many states still don't have one. Our government should try to have at least one guest house in every state.
Update: Two new Bodoland guest houses will be built in BTR. The BTR CEM Pramod Boro laid the foundation stone for constructing Bodoland guest houses at Kalaigaon and Mazbat, both in the Udalguri district, on 13 Feb 2023. For more details, check this FB post.
| | |
| --- | --- |
| Mazbat Bodoland Guest House | Kalaigaon Bodoland Guest House |
| | |
These two new additions will take the number of Boroland guest houses in Udalguri to four.

The BTC council has guest houses in the BTR area (4 districts), Guwahati, Siliguri, Kolkata, Chennai, Bengaluru, and Delhi. Though these guest houses and meant for natives of Bodoland, note that it's quite hard for the common people to get a room in these Bodoland guest houses even if they belong to the 4 districts of the BTR. People with political connections/references and officials get easy entry to such guest houses.
For public convenience (especially Bodo tribe), we have detailed the Bodo Land guest house with the address, liaison officer name and number, and caretaker name and number. You can directly visit the guest house or call the LO or the caretaker before visiting to check room availability.
List of Bodoland Guest Houses in India
Sl. No.
Bodoland Guest House Name
Address
Liaison Officer (LO) Name/Contact No.
Care Taker Name/Contact No.
1
Bodoland Guest House
Kokrajhar
Smt Rita Brahma
9954127366
2
Bodoland Guest House
Guwahati
Sri Ramen Basumatary
9706740828
Sri Ranjit Chakraborty
9435979539
3
Bodoland Bhawan
Survey, Beltola Guwahati
Sri Deepak Kr. Goyary
4
Bodoland House
Kailash Colony, New Delhi
Sri Niranjan Mashahary
9566023491
Sri Pran Kr. Narzary
8876582952
5
Bodoland Bhawan
Dwarka, New Delhi
Sri Uraideo Brahma
9880370978
Sri Nicolash Mohilary
8745940977
6
Bodoland House
Rajarhat, New Town, Kolkata
Sri Deepak Deb
9957263341
Molen Narzary
8232926495
7
Bodoland Guest House
Purasawalkam, Chennai
Sri Rajib Ramchiary
7795844969
8
Bodoland Guest House
Bengaluru
Ranjit Brahma
6363703650
9
UNB Memorial Cultural Cetre cum Guest House
Salugara, Siliguri
Smt. Juhi Suba
7980005037
10
Bodoland Guest House
Bennibari, Howly, Baksa
Sri Deepak Kr. Goyary
97078339040
11
Sub-divisional Bodoland Guest House
Parbatjhora
Sri Ferenga Brahma
8638741784
12
Sub-divisional Bodoland Guest House
Gossaigaon
Sri Danswrang Basumatary
9101678551
13
Sub-divisional Bodoland Guest House
Kajalgaon
Sri Neoton Basumatary
8822601478
14
Sub-divisional Bodoland Guest House
Mushalpur
15
Sub-divisional Bodoland Guest House
Tamulpur
Sri Pratik Debnath
8638613373
16
Sub-divisional Bodoland Guest House
Udalguri
Sri Rindaw Basumatary
8486907480
17
Sub-divisional Bodoland Guest House
Bhergaon
Smt. Rani Moni Deka
8638926199
18
Bodoland Guest House
Mazbat (Upcoming guest house)
19
Bodoland Guest House
Kaligaon (Upcoming guest house)
How to Book a Room?
Since the Bodoland guest houses are government property, you won't find them on the online private hotel booking website/app.
To help you book rooms in the Bodoland Bhawan, we have shared the Liaison Officer and Care Taker Numbers of the respective Bhawan in the table above. You can call them and explain your reason for your visit and see if they can give you accommodation.
Common people for leisure visits won't get the rooms easily; you may better book a private hotel.
Price?
These Bodoland bhawans or guest houses are cheaper than the regular paid hotels. The price is different in all the bhawans. But you can get it between Rs. 300-1000 (as per people's reviews on the Internet.
Note that these guest house rooms and facilities are not luxuriously furnished; however, you get air-conditioned accommodation with a cable TV connection at a nominal price. If you are tight on budget and love staying homely, go for it.
Bodoland Guest House in BTR
The BTC government has guest houses in the district and sub-divisional levels of the BTR area. The Bodoland Territorial Region has 9 guest houses spread across the four districts – Kokrajhar, Chirang, Baksa, and Udalguri. Not including Tamulpur, as the district has been temporarily stopped from existing (for delimitation purposes) from the 1st Jan 2023; otherwise, one guest house was located there, which would now be in Baksa again.
Kokrajhar district has three guest houses.

One in the district headquarters, Kokrajhar.
The second one is in the sub-division, Gossaigaon.
The third one is in the Parbatjhora.

Chirang district has only one guest house.

It's in the district headquarter, Kajalagaon.

Baksa district has three guest houses.

One in the district headquarter, Mushalpur.
Second one in the Tamulpur.
Third one in Bennibari, Howly.

Udalrui district has two guest houses.

One in the district headquarter, Udalguri.
Second one in the Bhergaon.
Why is Bodoland Guest House Needed?
Why do some people prefer Bodo land guest houses instead of hotels?
Silent and homely, you'll love the home-like stay if you are far away from your home.
 It will be helpful to the Bodos and non-boros during visiting in a difficult situation with no safe space to live for students and patients for treatment.
 Government meetings are often organized.
 Tourist attractions as tourists and other official visitors can have accommodation for a night stay.
 Used as an emporium and cultural exchange center for the benefit of the people of Bodoland and Assam.
1. Bodoland Guest House Kokrajhar
Some Details:
Address: Jwhwlao Dwimalu Road, Kokrajhar, BTAD, 783370
Liaison Officer (LO): Smt Rita Brahma – 9954127366
Bodoland Guest House Kajalgaon
The Boroland guest house at Kajalgaon in Chirang district was inaugurated in 2019 (probably on 8 March) by the Hagrama-led BTC government.
As per the available info on the net, the guest house at Kajalgaon is a duplex house (G+1 = Ground + First floor). It has six rooms, including two VIP suits for the BTC chief and Deputy chief, one conference hall and a dining room.
Bodoland Guest House Guwahati
In Guwahati, there are two Bodoland guest houses, namely:
Bodoland Guest House in Khanapara, Guwahati.

Address: National Highway 37, Resham Nagar, Khanapara, Guwahati, Assam – 781022.

Bodoland Bhawan in Survey, Guwahati.
Bodoland Guest House Delhi
In Delhi, there are two Bodoland guest houses, namely:
Bodoland Guest House in Kailash Colony, Delhi.
Bodoland Guest House in Dwarka, Delhi
Bodoland Guest House Kolkata
In West Bengal, there are two Bodoland guest houses, one in Kolkata and another one in Siliguri.
Bodoland Guest House Kolkata is Located in New Town, Rajarhat, Kolkata. It's 12 KM from the Airport, 12 KM from Sealdah Railway Station and 20 KM from Howrah Railway Station.
It's to be noted that Bodoland Guest House Kolkata in the biggest among all the Bodoland Guest Houses. It consists of total 11 floors,
Kolkata Bodoland Guest House Photos
Bodoland Guest House Kolkata Room Rent Price
Apart from the above mentioned rent, there is a special rent system for students where they will be charged only Rs. 100 per day if they opt for the dormitory room. Dormitory room is basically a room which they will share with other students.
Explore Bodoland Guest House Kolkata via Boroni Alfred Video
Bodoland Guest House Siliguri
Apart from Kolkata, there is a Bodoland Guest house in Siliguri in West Bengal state.
Name & Address:
Upendra Nath Brahma Memorial Cultural Centre cum Guest House
Eastern By-pass, Siliguri, W/No. 42, Salugara-734008, West Bengal
Bodofa Statue Unveiled at Bodoland Guest House Siliguri by CEM Pramod Boro on 9 Feb 2021.
Bodoland Guest House Bennibari Howly Baksa
The Boroland guest house at Howly in Barpeta district was inaugurated by the ex-BTC chief Hagrama in 2018 (probably on 13 Dec 2018).
The guest house in bennibari howly is a three-storey house.
Some important info:
Address:
Care Taker Name: Sri Deepak Kr. Goyary
Care Take Number: 97078339040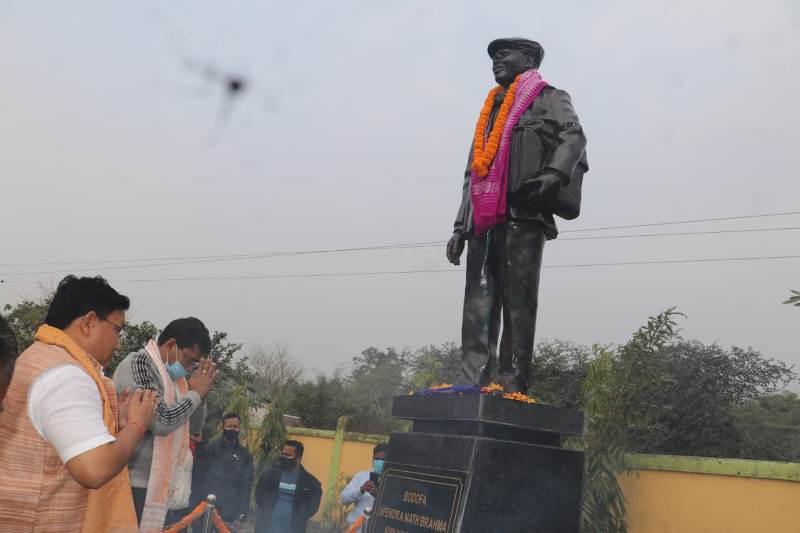 Other Facts
Every Bodoland Guest House has a room dedicated for the CEM, Dy. CEM, CEO (Principal Secretary) and EMs of the BTR government.
FAQs:
1. Where can I get the contact number of Bodoland Guest House?
It is the common question people are looking at on the Internet. Luckily, we have solved that issue for you. We have updated the contact numbers of all the Baroland guest houses available across India. You can contact the caretaker number to see if the room is available and can book one for you; otherwise, you can take help from the Liaison number shared above.