Udalguri Engineering College 2023 Update: As part of the RUSA project, the Assam government proposed setting up a new engineering college in the Udalguri district of BTR, Assam.
Setting up Udalguri Engineering College Notification
Udalguri does not have any professional colleges, including engineering and medical schools. The BTC government will establish a new state engineering college in the Udalguri district of BTR, led by the ex-BTC chief Hagrama Mohilary.
Udalguri district will finally have an engineering college, the district's first engineering college. Construction, however, did not take place during the Hagrama regime.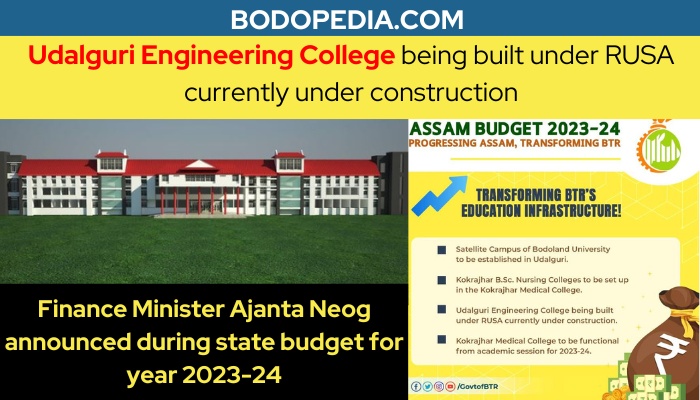 The new BTC government led by Pramod Boro since Dec 2020 has announced that the National Institute of Technology (NIT) will be established in Udalguri as part of the 3rd Bodo Peace Accord. The question is whether the NIT will replace the earlier state engineering college or we will have both because NIT is a centrally funded deemed university.
Budget Allocation
Under the RUSA report, a budget of 26 crores was allocated for constructing the Udalguri engineering college; however, this will change once construction begins.
Digitally Launched by PM Modi
Despite claims that PM Modi digitally launched the Udaguri Engineering College on 3 February 2019, there is no proof online, and no updates have been made anywhere.
Proposed Building for Udalguri Engineering College
Udalguri engineering college is proposing to construct an academic/administrative block containing the Principal's office, classroom, laboratories, toilet blocks (for boys and girls), common rooms (for boys and girls), a central library, a central seminar room, a central computer center, as well as a confidential room. The academic/administrative block has a total area of 7200 square meters on the ground and first floors. In total, the workshop area, including the cafeteria, is 400 square meters, while the hostel area for boys and girls is 397.89 square meters (each).
Udalguri Engineering College Address/Location
The new professional engineering college in Udalguri is located at Nalkhamara village, Ambagaon Mouza, under Udalguri Revenue Circle, Udalguri district of BTR, Assam, covering an area of 32 Bighas 2 Katha 10 Lecha (10.74 acres). The site of the college is situated at a distance of approximately 10 Kms from the district headquarters.

Construction of Udalguri Engineering College
The permanent campus of the Udalguri engineering college has yet to be constructed. There has long been discussion regarding the construction of an engineering college at Udalguri, but progress has yet to be made regarding the laying of the foundation for the engineering college or other construction work. Many Udalguri students interested in engineering are looking forward to studying in their hometown.
It would be very helpful if the current BTR government and the Assam government could update us on the progress of the Udalguri engineering institute, along with whether it is the state engineering college or NIT.
Other Engineering Colleges in Bodoland (BTR)
Right now Udalguri district has just one technical institute, i.e. Udalguri Polytechnic Institute at Bhergaon.
Check out the engineering colleges in other districts of Bodoland Territorial Region (BTR) here.
FAQs
1. Which is the First Engineering College in Udalguri?
Udalguri engineering college will be the first engineering college in Udalguri district of BTR, Assam.
Currently this college is currently in construction state under RUSA project.
2. How many Engineering college are there in Udalguri district?
Udalguri district has one upcoming engineering college – Udalguri engineering college.
There is no active functioning engineering college in Udalguri as of now.
There is one Polytechnic Institute named as Udalguri Polytechnic Institute located in Bhergaon.