Assam Budget 2023-24 for BTR Key Points.
Assam Budget 2023-24 for the Financial Year 2023-24 has been announced.
The Assam Finance Minister, Smt Ajanta Neog, on 16 March 2023, announced the Assam Budget 2023-24 from the Assam Budget Speech in the Assam Assembly. The newly created Assam budget 2023 has some good news for the overall development of the BTR. BTR.
Education Sector
Assam Budget 2023-24 has mentioned that new colleges will be established in Udalguri, the new engineering college and the satellite campus of Bodoland University in Udalguri, and the Nursing Colleges in Kokrajhar Medical College. These new colleges will boost higher education infrastructure within the Bodoland Territorial Region (BTR).
Satellite Campus of Bodoland University to be established in Udalguri.
Kokrajhar B.Sc. Nursing College to be set up in the Kokrajhar Medical College.
Udalguri Engineering College being built under RUSA currently under construction.
Kokrajhar Medical College to be functional from academic session for 2023-24.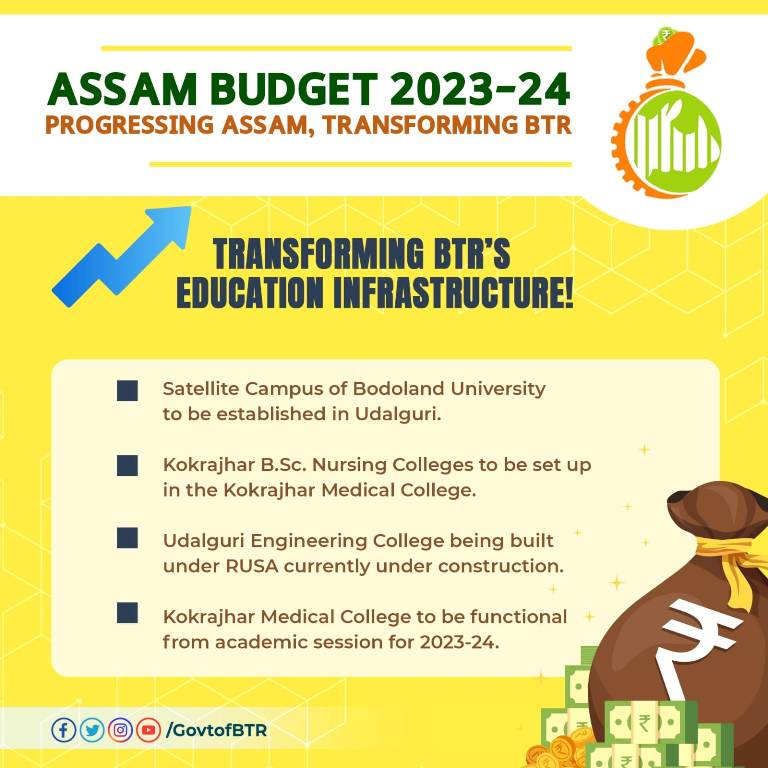 Flagship Schemes of BTR
Assam Budget 2023 has given a lot of importance to the Flagship Schemes of our BTR Govt, like Bodoland Super 50, SEED Mission, Bodoland Handloom Mission, Bodoland Sericulture Mission, etc.
Bodoland Super 50 Mission
Bodoland Swaniyojon Yojana
Bodoland Atma Nirbhor Yojana
Bodoland Yuva Vikash
Bodoland Handloom Mission
Bodoland Sericulture Mission
SEED Mission
Mission Dugdha Dhara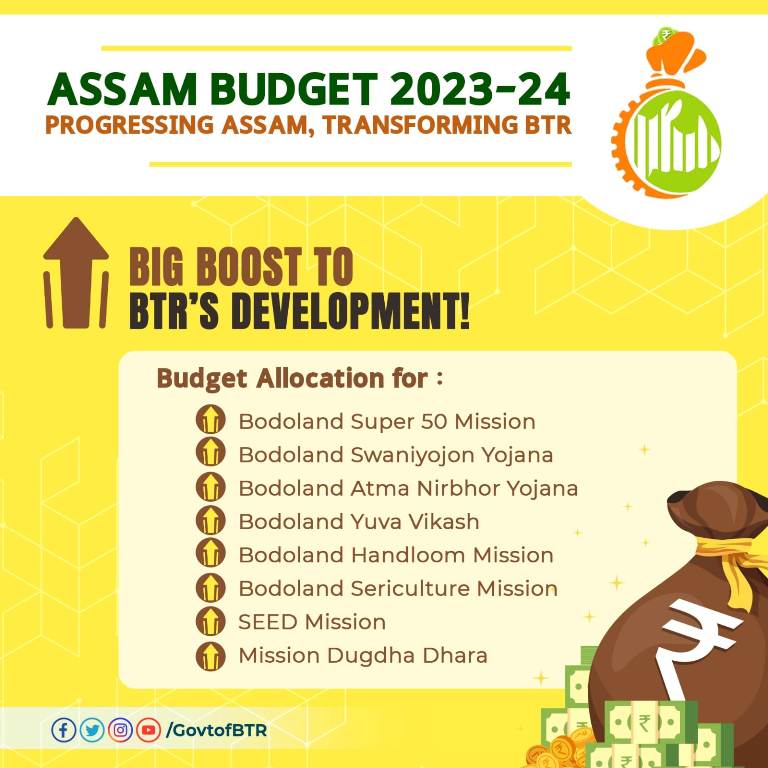 Road Infrastructure of BTR
The creation of new road infrastructure in BTR utilizing funds allocated in AssamBudget2023 will significantly enhance connectivity & boost the growing economy of BTR.