Bodoland Radab Cable TV Number 276: Watch Bodo News on Cable TV Channel No 276.
Many Local Bodo News portals have emerged during and after 2020; even the big National and Regional news portals have also started covering Bodo news aggressively in Boro languages.
The Bodoland Radab is at the top among the Local Bodo news portals having more prominent coverage and the highest number of followers on Social Media (Facebook page). There was a talk of making the Bodoland Radab a satellite TV, but for now, Bodoland Radab got a Cable TV Account Number 276 for Bodo Language News; that's a significant step. Next, BTR will like to have a satellite TV.
There are a lot of Bodo news portals but not a single Bodo channel on TV; luckily, today, that void is fulfilled. Now the Kokrajhar district has one Bodo News Channel on the Cable network.
Bodoland रादाब Cable TV Launching Ceremony
The much-awaited BTR's Cable TV Bodo News Channel "Bodoland रादाब" with Channel No 276 has been ceremonially launched in Kokrajhar town on 3 April 2022.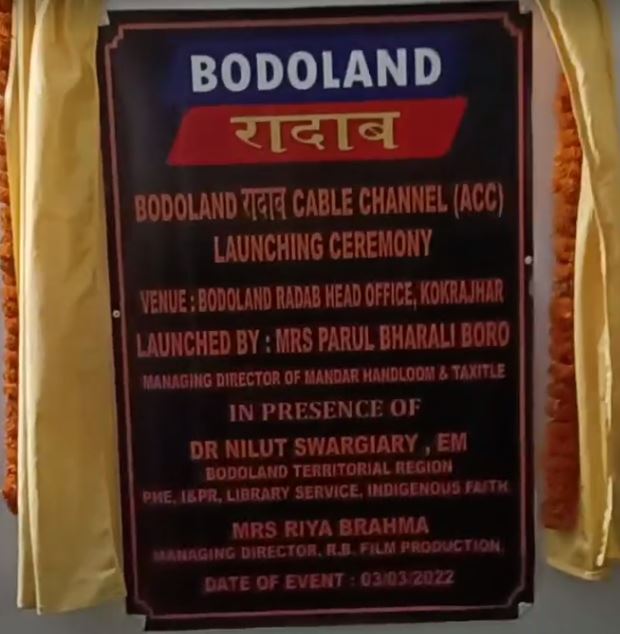 The BTC EM Dr. Nilut Swargiary, Wife of BTC Chief Smt Parul Bharali Boro, Chairperson of Kokrajhar Municipal Board Smt Pratibha Brahma, and RB Film Production MD Smt Riya Brahma were present during the ceremonial launch of the Bodo First Cable TV Acc Channel Number 276.
The Bodo people have got their Bodo TV channel after many struggles. It's a pride moment for the Bodo people. It's indeed a great joy for the Bodoland Territorial Region (BTR) people.
Today, the basic needs of Bodoland people for BODO NEWS for airing on TV are fulfilled. Now Bodo people will be able to watch and listen to the news in their mother tongue – the Boro language. Congratulation to the entire team of Bodoland Radab for achieving this feat.
About Bodoland रादाब
Bodoland रादाब is a regional news portal, accurately Bodo News Portal headquarters in Kokrajhar town. They mainly cover the Bodoland Territorial Region News of the five districts, namely, Kokrajhar, Chirang, Baksa, Udalguri, and Tamulpur. Since it's a Bodo news portal, the news of Bodo people irrespective of the location/places is covered as much as possible.
Now on 3rd April 2022, they have got their first Bodo Cable TV Account Channel No. 276.
Danswrang Brahma is the Manager Director and Maikahm Basumatary is the Editor-in-Chief of the Bodoland Radab.
FAQs:
1. What is the Name of Bodo News Cable TV Channel?
Bodoland Radab Channel Number 276 is Bodo's Cable TV in Kokrajhar town.
2. When was Bodoland Radab TV Channel 276 Launched?
3 April 2022 is the launch date of Bodoland Radab TV channel 276.