Free Bicycles for Class IX Students: Good News for the students of class 9 studying in the Government and Provincialized schools of Assam. The Ceremonial Distribution of FREE bicycles from the Govt of Assam under the Pragyan Bharati Scheme was held on 13 October 2023 in the districts of Assam.
FREE Bicycle Distribution Ceremony for Class IX Students By Assam Govt
Free Bicycles are distributed to a total of 3,69,454 students on 13 October 2023. The Free Bicycles students list has been shared below:
Free Bicycles District Wise Distribution
A ceremonial distribution of bicycles to students of class 9, studying in government and provincialized schools, was held at various locations in all 35 districts of Assam.
Free Bicycles for Class IX Students under Assam Pragyan Bharati Scheme
Like in previous years, the Assam government has decided to distribute bicycles to the school-going male and female students of Class 9.
The distribution of bicycles to 3,78,000 Class-IX students in Assam has been approved by the Assam Cabinet. This scheme aims to ensure fair distribution among both boys and girls attending 4,372 government and provincialized schools.
To streamline the procurement process, the Assam government will utilize the Government e-Marketplace (GeM) portal, promoting transparency, efficiency, and accountability in acquiring bicycles and scooters.
Under the leadership of Assam Chief Minister Himanta Biswa Sarma, the Cabinet meeting held on July 5 resulted in the announcement of a key decision regarding the Pragyan Bharati Scheme.
Taking to his Official Twitter Account, Minister of Education, Dr. Ranoj Regu wrote:
Cabinet has approved the procurement of Bicycles for 3,78,000 students of Class-IX, boys, and girls, of 4372 Govt and Provincialised Schools. Rs.167.95 Crore has been sanctioned. The Bicycles are being procured through @GeM_India portal.
Assam Free Bicycle Scheme Overview
| | |
| --- | --- |
| Scheme Name | Pragyan Bharati Scheme |
| Scheme Benefit | FREE Bicycles |
| Beneficiaries | Class 9 Students |
| No. of Beneficiaries | 378,000 |
| Launched for | Government and provincialized schools |
| Organization | Government of Assam |
| Assam Free Bicycle Distribution Date | 13 October 2023 |
| Join Telegram Group | Join Here |
Eligibility Criteria
For students to be eligible for free bicycles, the applicants must meet the following criteria:
Applicant must be a permanent resident of Assam state.
Applicant must be enrolled in class 9.
Applicant must attend either government or provincialized schools.
Required Documents
School ID
Passport Size Photo
How to Apply Assam Free Bicycle Scheme?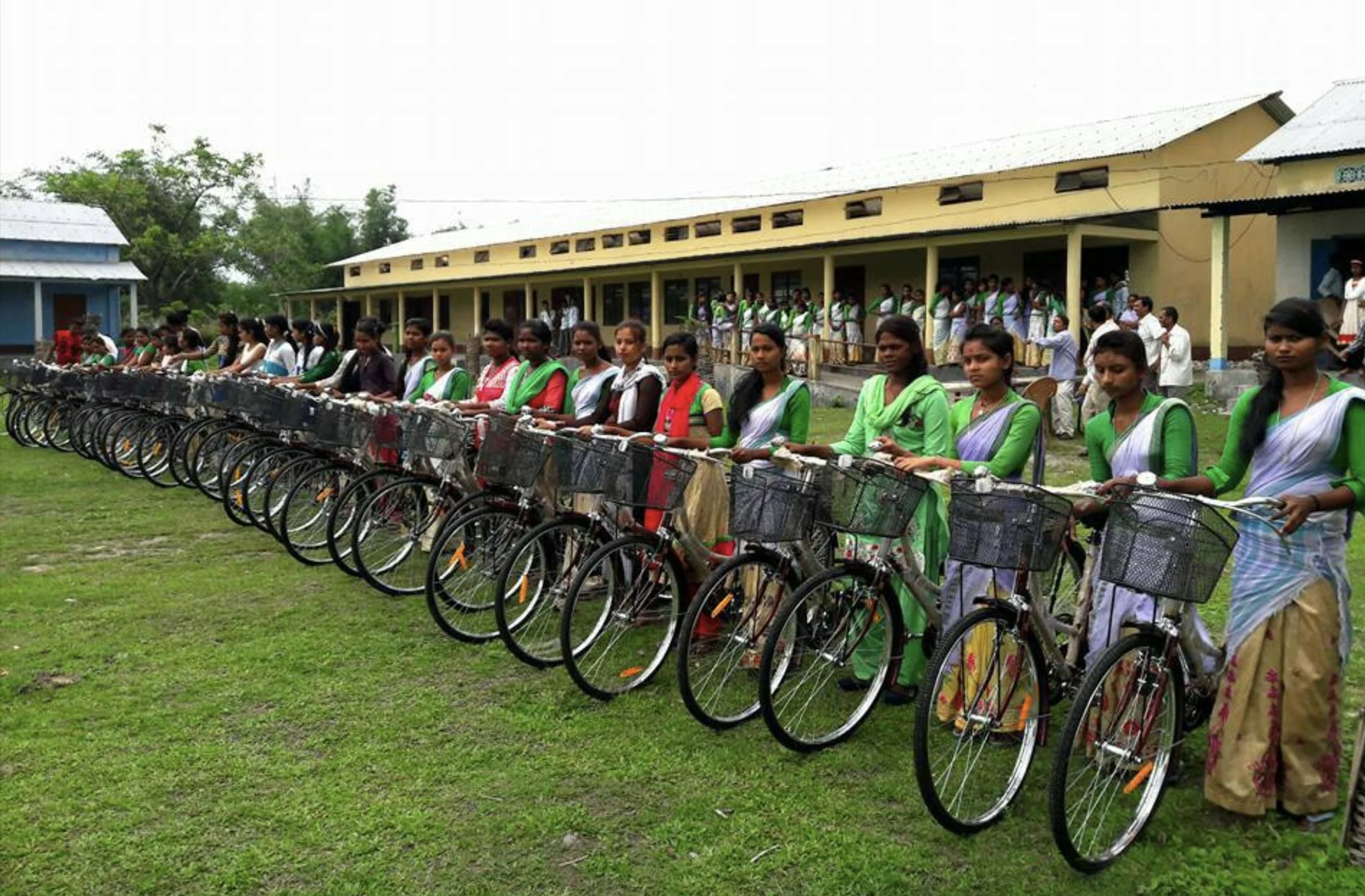 To apply for the free bicycles:
Access the GeM (Government e-Marketplace) portal.
Follow the provided application process on the portal.
Assam Scooty Scheme 2023
The Assam government has also announced the Assam Scooty Scheme or Pragyan Bharati Scheme 2023, providing scooters to meritorious students. Female students who scored a minimum of 60% in the Higher Secondary Exams and male students with a score of 75% or higher are eligible.
For more information, click on Assam Pragyan Bharati Scooty Scheme 2023.
Assam Budget 2023-23 on Pragyan Bharati
Assam Finance Minister Ajanta Neog on 16 March 2023, while presenting the Assam state budget for fiscal year 2023-2024 also announced that all students who receive 1st place in class 9 will be provided free tablets under Aarohan scheme. The tablets will be linked to a central agency that will provide educational materials.
Important Links
FAQs
1. Who are eligible for free bicycles?
Students enrolled in government and provincialized schools in Class 9 are eligible for free bicycles.
2. How many students of class 9 will get the free bicycles?
A total of 3,78,000 class 9 students have been approved for free bicycles.
3. Will the boys get the FREE bicycles from Assam Govt?
Yes, Boys of class 9 will get the FREE bicycles along with the girls under the Pragyan Bharati scheme. The Assam govt has declared the same in the 5 July 2023 Cabinet meeting decision. You can check out the details in the article.