The Chirang district has been added as a special TET exam centre, and the Hindi language has been removed from the question medium. The Special TET 2023 exam is scheduled for 30 April 2023 (Sunday).
Bodopedia wishes the BEST of LUCK to all the TET candidates.
A few minor updates have been made to the upcoming Assam Special TET exam scheduled for 30 April 2023 (Sunday).
Assam TET Special 2023 Exam Question Paper Medium Language Update
For the 6th scheduled TET exam paper 2023, the Hindu language has been removed from the question paper. Only four languages will be the medium of the question paper: Assamese, Bengali, Bodo, and English.
The reason for removing the Hindu language from the Special TET question paper may be because only the seven districts of Assam will be part of this 6th scheduled TET exam, and non of the districts falls under the Hindi-speaking population in Assam.
Addition of New TET Exam Centre for Special TET 2023
The 6 scheduled TET 2023 exam for Upper Primary (UP) and Lower Primary (LP) school teachers is meant for four BTR districts and three districts of Assam, Dima Hasao, Karbi Anglong, and West Karbi Anglong.
Each district was allotted the Exam centre for the Special TET 2023 except the Chirang district of BTR. Now the State Level Empowerment Committee, TET, under the Assam Govt, has decided to allot TET examination centres in the Chirang district. It is for candidates who mention Chirang district as their home district during the 2023 special TET online application process.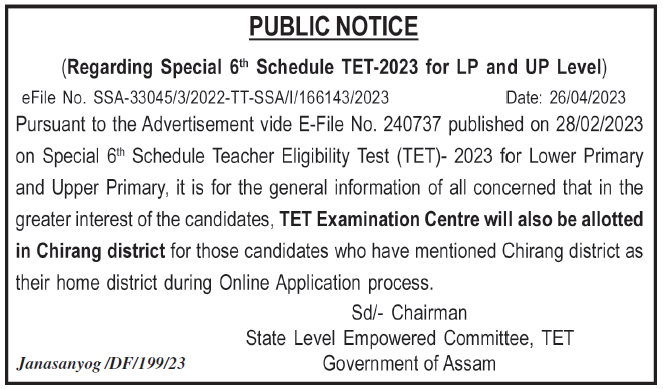 Also Read,