Bodoland University Kokrajhar: Bodoland University in Kokrajhar is the first and only University in Bodoland, and it offers courses in Certificate, Diploma, Undergraduate, Postgraduate, and Ph.D. Bodoland University abbreviated as BU is the University you should look for your higher education if you are a resident of the Bodoland Territorial Region (BTR) and want to continue your higher studies within the area. You can check out the detailed courses offered by BU in the below section.
If you want to study engineering, then we have a Deemed University nearby Bodoland University namely, Central Institute of Technology (CIT) where you can study your Engineering courses.
Bodoland University Creation/History
Kokrajhar Bodoland University: Bodoland University is the outcome of the elevation of the Kokrajhar campus of the Gauhati University in Kokrajhar created in 2009. BU is now a state university located in Debargaon, 9 km away from the Kokrajhar town.
Bodoand University
Central Institute of Technology
Bodoland University Kokrajhar: Now, we are going to have one more totaling three universities in the Kokrajhar district. Kokrajhar govt college located in the heart of Kokrajhar town, currently affiliated with the Bodoland University has been upgraded to University status. In the current Assam Budget 2022 for BTR, Rs. 10 crores to the college has been assigned as grants-in-aid for capital expenditure.
Bodoland (Officially Bodoland Territorial Region (BTR)) has only 3 Universities in the entire 5 districts namely, Kokrajhar, Chirang, Baksa, Udalguri, and Tamulpur. All of them are located in Kokrajhar town (the headquarters of the BTC).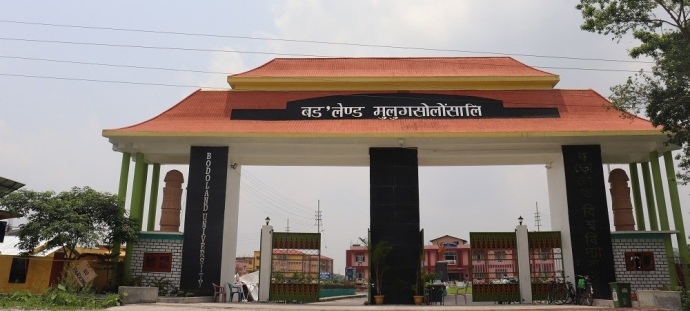 Bodoland University Kokrajhar Highlights
Bodoland University Logo
University Name
Bodoland University
Type of University
State University
Courses Offered
Certificate, Diploma, Undergraduate, Postgradudate, Ph.D.
Category
University
Address / Location
Debargaon, P.O. – Rangalikhata, Kokrajhar
BTC, Assam – 783370, India
Location
Kokrajhar, BTR, Assam
Helpline Number
03661-2771-26/29/49/83
Email Id
[email protected]
Affiliated With
University Grants Commission (UGC)
Founded
2009
Official Website
bodolanduniversity.ac.in (Old website)
buniv.edu.in (New website)
Bodoland University Courses / BU courses
Bodoland University offers various courses from Diploma to Research level. We'll brief the program in detail below.
Diploma and Certificate Courses
The BU Kokrajhar offers Diploma in 3 courses as mentioned below.
Bamboo Studies
Mushroom
Human Rights
Bodo Certificate Course
Under Graduate Courses (UG Courses)
The BU Kokrajhar offers degree courses in Arts, Science, Commerce and Computer.
Bachelor of Arts (B.A.)
Bachelor of Science (B.Sc.)
Bachelor of Commerce (B.Com)
Bachelor of Computer Application (BCA)
Post Graduate Courses (PG Courses)
The BU Kokrajhar offers master courses in Arts, Science, Commerce, Computer, and Management.
Master of Arts (M.A.)
Master of Science (M.Sc.)
Master of Commerce (M.Com)
Master of Computer Application (MCA)
Master of Business Administration (MBA)
BU Kokrajhar | Master of Arts courses
The full form of an M.A. is a Master of Arts. M.A. is a post-graduate level course available at BU Kokrajhar, there is a total of six courses in M.A. as listed below.
| | | | |
| --- | --- | --- | --- |
| Sl. No. | M.A. Postgraduate Courses | Abbreviated as | Duration |
| 1 | Master of Arts in Assamese | M.A. (Assamese) | 2 years |
| 2 | Master of Arts in Bodo | M.A. (Bodo) | 2 years |
| 3 | Master of Arts in English | M.A. (English) | 2 years |
| 4 | Master of Arts in Economics | M.A. (Economics) | 2 years |
| 5 | Master of Arts in History | M.A. (History) | 2 years |
| 6 | Master of Arts in Political Science | M.A. (Political Science) | 2 years |
BU Kokrajhar | Master of Science Courses
| | | | |
| --- | --- | --- | --- |
| Sl. No. | M.Sc. Postgraduate courses | Abbreviated as | Duration |
| 1 | Master of Science in Biotechnology | M.Sc. (Biotechnology) | 2 years |
| 2 | Master of Science in Botany | M.Sc. (Botany) | 2 years |
| 3 | Master of Science in Chemistry | M.Sc. (Chemistry) | 2 years |
| 4 | Master of Science in Computer Science / Information Technology | M. Sc. (CSE/IT) | 2 years |
| 5 | Master of Science in Mathematical Science | M. Sc. (Mathematical Science) | 2 years |
| 6 | Master of Science in Physics | M.Sc. (Physics) | 2 years |
| 7 | Master of Science in Zoology | M.Sc. (Zoology) | 2 years |
Research / Doctorate Courses
The BU Kokrajhar offers Research and Doctorate courses.
Master of Philosophy (M.Phil)
M.Phil's full form is Master of Philosophy, M.Phil is a postgraduate research degree awarded by Bodoland University.
Doctor of Philosophy (PhD)
If you are wondering, what a Ph.D. means, then PhD's full form is Doctor of Philosophy.
Bodoland University Admission 2023 / Registration 2023
The BU admission 2023-24 academic year details are shared below:
Bodoland University Ph.D. Admission 2023
Bodoland University Departments
There are a total of 17 departments and 5 centers of studies in BU Kokrajhar, The list of BU departments are:
Faculty of Language

Department of Assamese
Department of Bodo
Department of English

Faculty of Social Sciences

Department of Economics
Department of History
Department of Political Science

Faculty of Science and Technology

Department of Biotechnology
Department of Botany
Department of Chemistry
Department of Computer Science
Department of Mathematical Science
Department of Physics
Department of Zoology

Faculty of Commerce and Management

Department of Business Studies
Department of Commerce

Faculty of Humanities

Department of Education

Faculty of Environmental Studies

Department of Geography
Apartment from Departments, there are 5 centers of study as follows:
Centre for Bamboo Studies
Centre for Bodo Studies
Centre for Women Studies
South and South East Asia Study Centre
Technology Incubation Centre
Bodoland University Exam Result 2023 | BU Exam Result 2023
The Bodoland University will conduct a lot of offered courses and exams for the academic year 2023-24. Also, the BU will conduct entrance exams like BUCET 2023 for B.ED. and M.ED. You can get updates on Bodoland University exam result 2023/BU exam result 2023 at bodopedia.com.
List of Bodoland University Affiliate Colleges
On 2 July 2020, the Governor of Assam through the Commissioner & Secretary to the Government of Assam, Higher Education Department was notified via Letter No. AHE.156/2020/19 that the following Govt./Provincialised Colleges of Assam will be under the affiliation of Bodoland University (BU), Kokrajhar instead of affiliation of Gauhati University and shall operate under its jurisdiction for all concerned matters with immediate effect.
The letter has also ordered that 80% of the total seats in each subject under M.A./M.Sc./M.Com. programs may be reserved for the graduates of Bodoland University. The remaining 20% of seats may be kept open for admission on a merit basis only to graduates of all recognized Universities including Bodoland University.
There are 17 PG Departments and 48 Affiliated Degree Colleges, 4 DIETs and 3 B.Ed. Colleges. Bodoland University runs the Academic Curriculum following the Choice-Based Credit System of UGC.
The Padmashri Modaram Brahma Central Library provides knowledge and wisdom with multifaceted facilities. Besides, the University also has a Health Centre, Technology Incubation Centre, Intellectual Property rights cell, Bus service, and Hostel Facilities for students and research scholars.
The list of 25 affiliated colleges under Bodoland University Kokrajhar are:
Bodofa U.N. Brahma College, Kokrajhar
Commerce College, Kokrajhar
Aronai College Kokrajhar
Fakiragram College, Fakiragram, Kokrajhar
Girls' College, Kokrajhar
Gossaigaon College, Gossaigaon, Kokrajhar
Janata College, Serfanguri, Kokrajhar
Bodofa U.N. Brahma College, Dotma
Kokrajhar Govt. College, Kokrajhar
Science College, Kokrajhar
Swami Yogananda Giri College, Shaktiashram, Kokrajhar
Basugaon College, Basugaon, Chirang
Bengtol College, Bengtol, Chirang
Bijni College, Bijni, Chirang
Upendranath Brahma College, Kajalgaon, Chirang
Barama College, Barama, Baksa
B.B. Kishan College, Baksa
Goreswar College, Goreswar, Baksa
Gyanpeeth Degree College, Nikashi, Baksa
Salbari College, Salbari, Baksa
Khoirabari College, Khoirabari, Udalguri
Mazbat College, Mazbat, Udalguri

Tangla College, Tangla, Udalguri

Udalguri College, Udalguri
Kalaguru Bishnu Rabha Degree College, Orang, Udalguri
The List of DIET Colleges Affiliated with Bodoland University Kokrajhar is shared below:
DIET Morigaon
DIET Nalbari
DIET Barpeta
DIET Bongaigaon
The list of B.Ed Colleges Affiliated with Bodoland University Kokrajhar is shared below:
Govt. College of Teacher Education Kokrajhar
Reimalie Academy College
Gossaigaon B.Ed College
Bodofa Upendra Nath Brahma Statue at Bodoland University
The statue of Bodofa Upendra Nath Brahma was unveiled at the premises of Bodoland University by the Governor of Assam on March 3, 2020, in the presence of Ex-CEM of BTC, Hagrama Mohilary, and the Ex-MLA Pramila Rani Brahma.
Bodofa Upendra Nath Brahma Statue Images/Photos
Bodoland University Convocation
The First Convocation of Bodoland University was conducted on March 3, 2020, just before the nation was locked down due to COVID-19.
The BU Chancellor Prof. Jagdish Mukhi (Also the current Governor of Assam) tweeted about Bodoland University's first convocation, it says "Attended the very first convocation of Bodoland University. My heartfelt wishes to all of you, especially the degree holders for their well-deserved attainments. Congratulations."
On the same day of March 3, 2020, the 1st convocation of Bodoland University was also conducted.
Bodoland University Udalguri
The new Bodoland University campus will be created in the Udalguri. The same has been conveyed by the Assam CM, Himanta Biswa Sharma via tweeter page on 30 July 2021. He tweeted, "Udalguri campus of Bodoland University will be functional from next academic year & faculty will be recruited."
As per the Assam CM tweet, the BU Campus in Udalguri will be fully operational from the Academic year 2022.
Bodoland University Recruitment 2023
Bodoland University Kokrajhar has released a job notification for recruiting Vice Chancellor Vacancy. To check the details regarding the recruitment Check-
Bodoland University Vice Chancellor Recruitment 2023 | Last Date – 10 October 2023
FAQs:
1. Is Bodoland University Private or Government?
Bodoland University (BU) is a Public University located in the Kokrajhar district of Assam. We can say BU is the Government because public universities in India are supported by the Central government and the State government.