SAI STC Kokrajhar: This article will provide regular updates about SAI Stadium, including details about upcoming events. SAI is currently gearing up to host the Santosh Trophy 2023-24, starting on October 8th.
About Sports Authority of India | SAI
The Sports Authority of India (SAI) is India's premier National sports organization. It was established in 1984 by the Ministry of Youth Affairs and Sports department of the Government of India (GOI) to promote sports development in India. SAI encompasses various institutions and centers that focus on sports education and training. The SAI institutions/centers are divided into five categories:
2 sports academic institutions
11 SAI Regional Centres (SRC)
14 Centre of Excellence (COE/COX)
Kokrajhar SAI | SAI Training Centre in Kokrajhar | SAI STC Kokrajhar
To promote sports in India, SAI has launched several schemes to date. Kokrajhar SAI center has two SAI schemes in operation: the STC scheme and the SAG scheme. So we can call Kokrajhar SAI Stadium as Kokrajhar SAI STC Centre and Kokrajhar SAI SAG Centre.
These SAI STC and SAG schemes are used to spot and nurture talent through the SAI centers.
1. Kokrajhar SAI Training Centre Scheme (SAI STC)
The SAI formed the SAI STC scheme in 1995 and included the SAI Kokrajhar in the STC program. The SAI Sports Training Center (STC) in Kokrajhar is a program dedicated to spotting and nurturing young athletes aged 10 to 18. SAI selects young talent players through grassroots scouting efforts, and the center provides them with essential infrastructure, training facilities, and support. Residential and non-residential options are available for players based on their age group. The government funds the expenses of these players. 
The main objective of the STC scheme are: 
Give training to talented young sportspersons aged between 12-18 years (Sub-Junior/Junior Level).
Find out which athletes have reached advanced levels of proficiency.
Identify those naturally talented in Olympic disciplines, indigenous sports, and other sports.
Support athletes with in-house coaching, training, and nutrition.
2. Kokrajhar SAI Special Area Games (SAI SAG)
SAI Kokrajhar is already an STC center; what is with this SAG now? What is the difference between SAI STC vs SAG?
As mentioned earlier, SAI has various schemes through which they promote sports in India. SAI Sports Training Centre (STC) and Sports Area Games (SAG) are a few of them. SAI SAG is similar to SAI STC, with an additional responsibility of finding talented players from the community of tribals, rural, hilly, and coastal regions and training them to make them excellent in their respective sports and games.
Among 20 SAG Centres spread across India, Kokrajhar was chosen as one of the locations for the Special Area Games (SAG) Sports Centers, which are part of the SAG Scheme.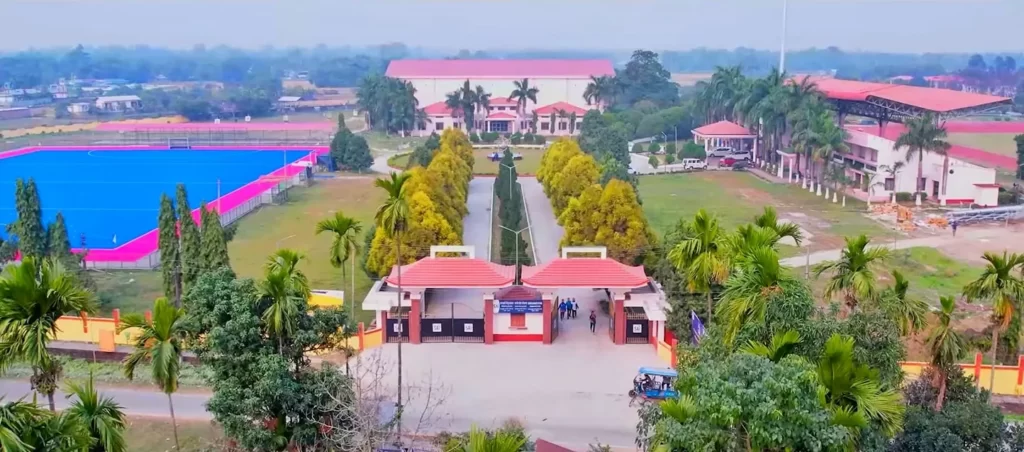 Since its establishment in 2006, the SAI Kokrajhar Center has focused on identifying and supporting local talent in various sports. The center's efforts have produced numerous talented athletes who have brought recognition to the region and India. Their achievements contribute to the growth and success of Indian sports. The SAI Training Centre in Kokrajhar is a driving force in sports development in the BTR region.
SAI STC Kokrajhar focuses on nurturing athletes in various sports disciplines, such as:
Archery
Athletics
Boxing
Football
Hockey
Judo
Wushu
Taekwondo.
SAI Kokrajhar Overview
| | |
| --- | --- |
| Name | SAI STC Kokrajhar | SAI SAG Kokrajhar | SAI Stadium Kokrajhar |
| Place Type | Sports Academy |
| Established Year | 2006 |
| Stadium Capacity | 10,000 |
| SAI Kokrajhar Address | Titaguri, Kathalguri No.1, Kokrajhar, BTR, Assam, India, 783370 |
| Official Website | NA |
| Join Telegram | Join Here |
Kokrajhar SAI Training Centre State-of-the-Art Facilities
The SAI Training Center in Kokrajhar, BTR, welcomes residents and non-residents with a passion for sports training. Situated over a 27-acre area, the center boasts an impressive array of indoor and outdoor facilities, including football and athletics stadiums, a well-equipped gym, a hockey astroturf, a Wushu Indoor stadium, separate hostels designed for male and female athletes, and many more.
The center offers comprehensive benefits to ensure trainees can concentrate on their athletic pursuits. These encompass provisions for 
Sports equipment
Necessary expenses
Educational support
Medical assistance
Insurance coverage, and other associated costs
This extensive support system allows athletes to concentrate on their training without the burden of financial concerns.
Experienced Coaches at SAI SAG Kokrajhar
The SAI Training Centre in Kokrajhar is home to a team of experienced and highly qualified coaches who provide top-notch guidance to athletes. These coaches possess in-depth knowledge of their respective sports and are dedicated to nurturing talent, imparting technical expertise, and refining athletes' skills. They create personalized training programs tailored to each athlete's specific needs and goals, extending their mentorship beyond technical aspects to encompass physical fitness, mental conditioning, and nutrition.
SAI Kokrajhar: Local Talent to National/International Recognition
The SAI Training Centre in Kokrajhar, the sole SAI facility in Bodoland, has consistently nurtured exceptional athletes who have garnered national and international acclaim.
A prominent example is Halicharan Narzary, a footballer whose journey started when he caught the attention of Director Pradip Brahma during a football scouting camp in 2006 and was subsequently selected for training at the SAI Kokrajhar center.
Apart from Halicharan Narzary, another Indian national footballer, Apurna Narzary, also began her professional football journey at the SAI Kokrajhar training centre.
Furthermore, Sanma Brahma, the first Bodo Wushu player from Kokrajhar, kickstarted his sports career at SAI Training Centre.
SAI STC Admission Process | Kokrajhar
If you are interested in securing admission at SAI STC Kokrajhar, here is a guide to the admission process:
Admission Requirements:
Passport Size Photographs
Aadhaar Card
Attested Copy of Birth Certificate
CHC/PHC
Any Sports Achievement Certificates
Eligibility Criteria:
Athletes must be between 10 and 18 years old to be eligible for admission. This age range ensures that the training center caters to young talents and offers appropriate training programs.
SAI STC Kokrajhar | SAI SAG Centre Images
Here are a few pictures that can give you an idea of what the Kokrajhar SAI sports complex looks like.
SAI Stadium Kokrajhar After
The SAI Stadium Kokrajhar has been given a new look after undergoing renovation for the upcoming Durand Cup 2023.
2023-24 Santosh Trophy SAI Stadium Schedule | Kokrajhar
Note: Check out 2023-24 Santosh Trophy KDSA Matches.
In the context of the Santosh Trophy 2023-24, the draw for Group D was conducted in Kokrajhar, Assam, comprising groups A, B, C, E, and F.
The tournament matches in Kokrajhar, Assam, will be hosted at SAI STC Stadium and KDSA venues. Set to kick off from October 8th to October 17th, this tournament in Kokrajhar will feature a total of 15 matches. Among these, 8 are scheduled for Sai Stadium and 4 for KDSA. Further details about the remaining 3 matches will be revealed later through an official announcement.
The 2023-24 Santosh Trophy Group D consists of 6 teams, as follows:
Chandigarh
Railways
Bihar
Rajasthan
Assam
Himachal Pradesh
2023-24 Santosh Trophy Groupings
SAI Stadium Fixtures For Santosh Trophy 2023-24
It's worth noting that 2023-24 Santosh Trophy matches at SAI Stadium will be played in pairs (2) on the same day.
2023-23 Santosh Trophy SAI Stadium Fixtures
| # | Date | Time | Team | Score |
| --- | --- | --- | --- | --- |
| 1 | 08 Oct | 15:30 | Chandigarh vs Railways | 0-2 |
| 2 | 08 Oct | 17:30 | Bihar vs Assam | 0-5 |
| 3 | 10 Oct | 08:30 | Chandigarh vs Himachal Pradesh | 2-1 |
| 4 | 10 Oct | 15:30 | Railways vs Assam | 0-1 |
| 5 | 12 Oct | 08:30 | Railways vs Rajasthan | |
| 6 | 12 Oct | 15:30 | Assam vs Chandigarh | |
| 7 | 15 Oct | 08:30 | Bihar vs Chandigarh | |
| 8 | 15 Oct | 15:30 | Rajasthan vs Assam | |
Spectacular Sporting Events | SAI SAG Centre
Although SAI STC had previously hosted various games, its recognition soared only after the COVID-19 pandemic. People have now become more acquainted with the center. SAI Special Area Games Centre Kokrajhar has been the venue for several renowned national and northeastern sports events.
1st Inter Sixth Schedule Premier League | 2022 ISPL-2022:
The BTR Government organized the "INTER SIXTH SCHEDULE PREMIER LEAGUE, 2022 (ISPL)" for the first time. The opening ceremony of this extravaganza took place at Dimakuchi Stadium in Udalguri on October 9, 2022. A total of 10 teams representing sixth schedule councils from the northeastern region participated in this event.
In the final match held at SAI SAG Center in Kathalguri Titaguri, Kokrajhar district, the BTR team emerged as the 1st Inter Sixth Schedule Premier League (ISPL) champions in 2022. They secured a remarkable 1-0 victory over Mizoram's Lai Autonomous Council (LADC).
During the event, 560 Bodo women showcased the captivating Bodo traditional dance known as "Bagurumba," while 150 Bodo men created enchanting melodies with the traditional Bodo instrument called "Khaam."
Santosh Trophy 2022-23
SAI Stadium Kokrajhar also hosted the 76th Hero National Championship Santosh Trophy 2022-23 Group III. A total of 15 matches were played in the Bodoland Territorial Region, with 10 at SAI STC and 5 at Kokrajhar District Sports Association (KDSA). The matches in Kokrajhar were held from December 28, 2022, to January 5, 2023.
Durand Cup 2023
SAI STC Kokrajhar will also host the upcoming 132nd edition of the Durand Cup 2023 alongside three other host cities: Guwahati, Shillong, and Kolkata. The Indian Super League, I-League, armed forces, and local team Bodoland FC will participate in the tournament. The football tournament will take place on August 6 at SAI Kokrajhar, and all four matches will be played at SAI STC Kokrajhar.
The BTR Government has enhanched the seating area for spectators.
FAQ
1. Who is the Director of SAI Training Centre (STC) Kokrajhar?
Pradip Brahma is the Director of SAI Training Centre Kokrajhar.
2. How can I get admission to SAI Kokrajhar?
To be admitted to SAI Kokrajhar, candidates between the ages of 10 and 18 must submit passport-size photographs, an Aadhaar card, a certified copy of their birth certificate, and any certificates of sports achievements they may have.